Our Android VPN tool is the best way for you to access sensitive or private personal information when you are away from a computer with just your Android device.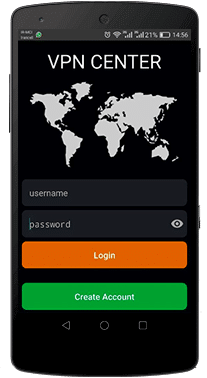 Our day to day life is an increasingly mobile world, with people spending more time on mobile devices for everything include online banking, email, messaging, social media, and casual shopping and browsing. VPNCENTER Android vpn service keeps you and your information safe so you can do what you need to. VPNCENTER disguises your IP address and will protect all your sensitive information regardless of what network you connect to – private or private wifi.
Secure your mobile device on the go with Android VPN service.
Data security is a big concern when using any type of mobile device. As you travel between cell towers, public WI-FI hotspots, and private networks, you expose every piece of data you transmit and your smartphone to unseen potential security threats. Hackers and malicious botnets are able to scan for unprotected devices and access private info like emails, credit card numbers, and financial logins
Our mobile VPN encryption also allows you to enjoy popular online services anywhere in the world, regardless of IP-based blockers and censorship. This includes BBC iPlayer, Netflix, Hulu, Roku Box, Pandora, ABC, CBS, NBC, Boxee, Facebook, and Youtube.
Open communication, free access to information, and personal privacy: the internet the way it was meant to be. VPNCENTER offers low-cost subscription-based android VPN services from your smart phone to our Multiple secure server locations. Easily unblock your favorite programming and watch what you want to watch regardless of the country you are in with our easy to install Android app.
Unlimited Bandwidth and Speeds
Get Unlimited Android VPN Speeds and Bandwidth for as low as $5.20 / month
Fast Android VPN Downloads
VPNCENTERVPN servers are optimized for best possible performance when using any Android device.
Cross Platform Compatible
We have engineered VPNCENTER VPN to work on any OS, including Windows, Mac, Linux, Android, iOS and more.
Invisible Stealth VPN Service
Bypass even the most strict DPI (Deep Packet Inspection) Firewalls with Stealth VPN service
100% Private, No Logs Kept
Big brother may be watching you, but we are not. VPNCENTER doesnt keep any logs on all VPN and proxy servers.